Joel Mills' Blog: Penang Island Jazz Festival
Julia Biel closed the Penang Island Jazz Festival in December 2015 and British Council Music Adviser Joel Mills was there to see it. Joel tells us about the festival and her experiences in Malaysia ...
I was delighted to be invited to visit Penang Island Jazz Festival in Malaysia to experience the festival first hand and to participate in panel discussions. The British Council have supported UK artists performing at PIJF over the past few years. Two years ago, Mercury Prize nominee, Eska performed there. This year we invited songwriter, pianist and MOBO Award nominee, Julia Biel. The Festival is nestled within a gorgeous setting by the sea, a few miles outside George Town, Penang's once thriving port. Now Penang is also known as a tourist destination, for Malaysians and internationals alike, due to its amazing cultural heritage and vibrancy. It is often seen as a melting pot where you'll find people of Malay, Chinese and Indian descent living alongside each other and the common ground is food; a source of great pride and enjoyment for Malaysians.
It's over 30 degrees in early December and the start of rainy season so late afternoon dark clouds can signal sudden, albeit brief, torrential downpours. Along the winding coastal road, big chain hotel developments snuggle alongside smaller businesses. There's a bustling night market and street food eateries with plastic tables and chairs.  The festival is set in the ample grounds of a large, comfortable hotel, where the back gate leads out to a narrow sandy beach. Families and teenagers play and fall about in fits of holiday laughter.
Penang Island Jazz Festival
The British Council invites international programmers, producers and festival directors to showcases of UK music festivals to see UK artists, be inspired and make connections. Paul Augustin, Director of the Penang Jazz Festival, was invited to the London Jazz Festival as part of the British Council's showcasing programme several years ago and there he developed strong links with the LJF and its producers, Serious. It's exactly this kind of long term relationship that we try to help nurture. Paul's passion and enthusiasm drives his belief in bringing people together through a mutual love of jazz: "our objective is to create an experience for the audience through the programming of high quality performers and music - in a way to try and balance it with a bit of everything and it also has to be a discovery of new styles, new music, new talents. Sometimes we push the envelope a little bit by taking chances with the acts. With regards to the discussions and workshops, we try to not follow the usual 'safe' route but try to make it interesting for the audience and also a little challenging for the panel."
Penang Jazz Festival's main stage is set in the palm-shaded gardens of a beachside hotel and each evening it hosts a range of high quality artists from around the world. For the adventurous, there's also a sunrise concert but it does mean getting up in the dark and winding your way ten minutes along the coast road to a nearby Spice Garden, where a mixture of local artists and international guests perform in a platform overlooking the tropical lush greenery as the sky wakes slowly from pink to blue. On my visit it drew a surprising amount of people for so early in the morning and proved a real highlight.
The festival also hosts workshops from artists who share their knowledge, discuss their influences and field audience questions about their work. Panel discussions explore questions about music itself, covering a range of topics including funding opportunities, collaboration and "What is Jazz". I took part in a few lively panel discussions, including a panel on trends and influences of European music. My presentation explored the rich range of influences on British music broadly, and jazz specifically, and lead to a provocation: do we really want music to sound like it could be from anywhere or do we want music to sound like the place it's from?
Julia Biel played the final set of the festival on Sunday evening with her trio and the audience were absorbed in her sultry tones and crafted songs. It's a fitting end to a truly lovely festival. But it's also more than that. This sense of shared experience brings people together, and connects people with music and people they may never have encountered before. "The wonderfully warm team behind Penang Island Jazz Festival set the tone and invited amazing acts from all corners of the globe" said Julia. "Together with the most appreciative of audiences, we became family. What a vibe."
With thanks to Grey Yeoh (Arts Manager, British Council Malaysia) for support and the photos!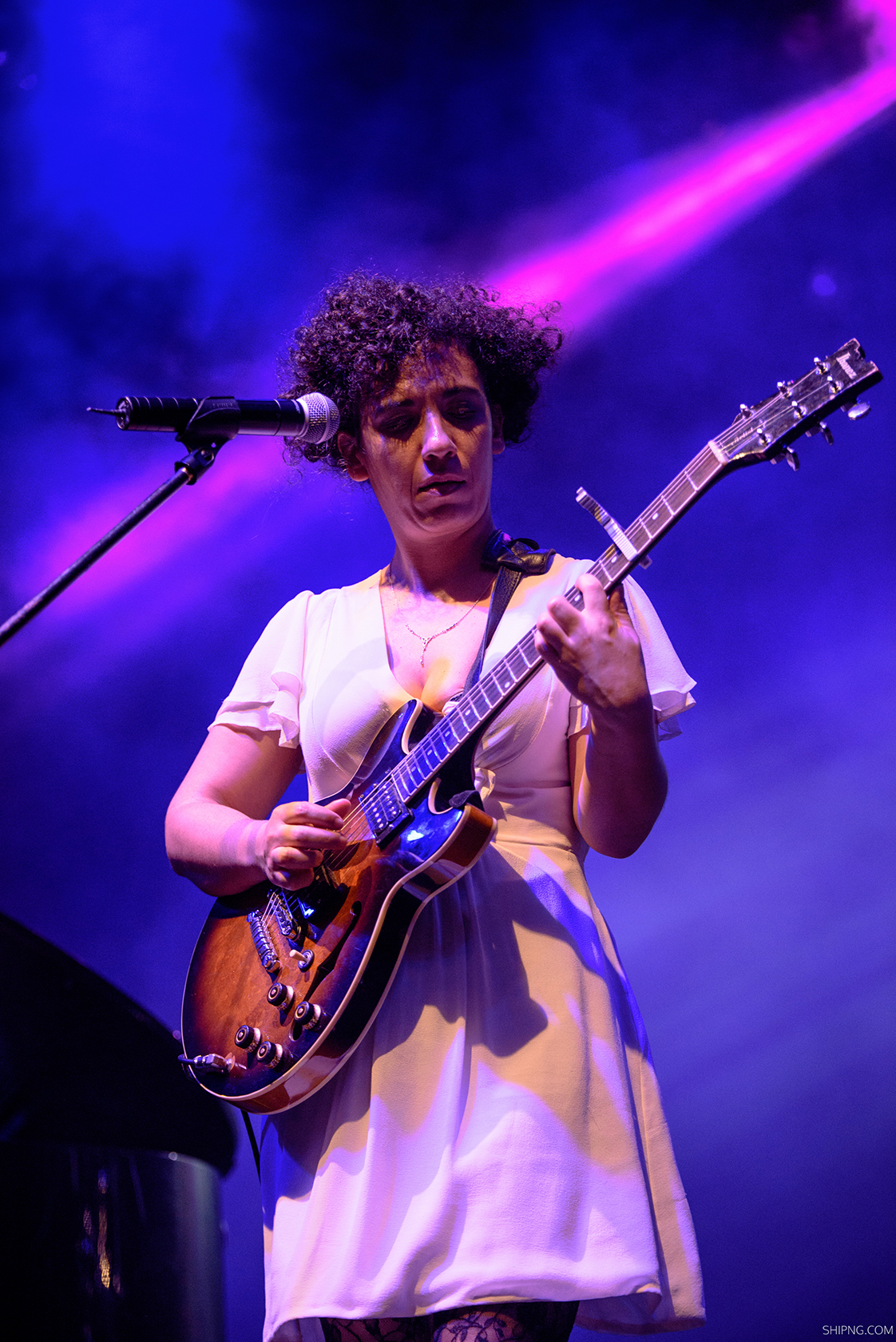 Julia Biel. Photo: Ch'ng Shi P'ng