I took a trip to Paris recently to attend Afropunk Festival and made the uplifting discovery that this was so much more than simply a three-day music event. When asked by the festival press what Afropunk means, musician Saul Williams – who headlined the closing night of the festival – left a cryptic clue: "Afropunk means everything, and nothing." So what exactly is Afropunk? And how can it possibly mean both everything and nothing?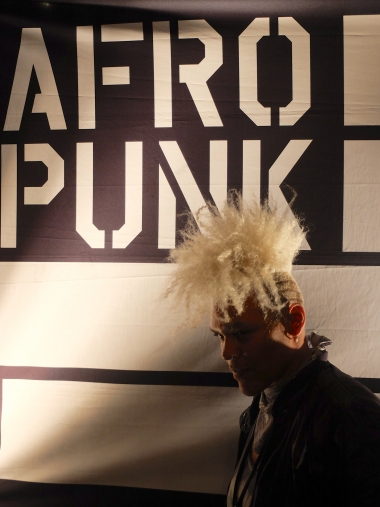 Afropunk Festival was born out of a short film entitled Afro-Punk (2003) produced by Matthew Morgan and directed by James Spooner. The film documents the stories of Afro-American kids who strongly identified with the radical attitudes of the 70s DIY punk-rock movement, casting a spotlight on the growing number of black punks dissatisfied with the lack of racial diversity in the existing punk-rock scene. These young black kids connected with punk's attempt to deconstruct oppressive systems of power and super-structures through art, music and fashion. Following the films release, Morgan teamed up with music industry expert and eventual Afropunk festival co-founder, Jocelyn Cooper. The pair set out to fill the void in the music market with an event that celebrates the merging of art, activism and black punk culture. The result was Afropunk Festival, born in Brooklyn in 2004 it has since found homes in Atlanta and Paris. The event first arrived on European shores in 2015 and settled in Le Trianon, a concert hall located in Monmartre, the heart of Paris.
As somebody who has a passion and knowledge of music festivals, which developed whilst working at various European outdoor events, I had slight reservations about attending a festival set within the confines of an indoor venue. Built in 1902, Le Trianon is one of Paris' oldest music halls - an architecturally stunning building that oozes decadence with its grand entrance hall, marble staircase and chandelier adorned ballroom-bar - but not exactly the setting one would immediately associate with a music festival that has 'punk' in its title! However, as the music hall began to fill up with people my reservations were silenced; I was awe-struck by the sheer beauty and elegance of the exquisitely styled Afropunk audience. It felt as though someone had pulled back the curtains and given me a glimpse into an urban ballroom filled with the graceful and somewhat regal presence of the Afropean kings and queens of the Parisian underground. The atmosphere was electric and I could sense that this crowd knew how to create that feel-good party vibe that is the epitome of outdoor festivals.
Le Trianon provided an ideal backdrop for the highly fashionable Afropunk crowd, but what about the music? I had always associated punk concerts with loud electric guitars, screeching lead vocalists and audiences who headbanged until they were truly out of their minds. However, after the first few acts had graced the stage it dawned on me that the 'punk' in Afropunk was predominantly about adopting the anti-establishment and DIY attitude of the 70s punk-rock movement, rather than specifically its sound. The 2016 Afropunk Festival Paris line-up was an eclectic mix of musical styles including electro-soul, jazz, hip-hop and afrobeats. The event was truly international with musicians flown in from various countries including USA, UK and Brazil to perform. The programming exposed me to some exciting new artists such as Young Paris, The Suffers and Karol Konka. It was the Afro-inspired, DIY punk attitude that threaded the musical line-up together to make it a diverse yet harmonious festival programme; British artists Morcheeba, Michael Kiwunaku and Eska all brilliantly showcased the musical talent that is being cultivated here in the UK and exported to other countries.
Going back to my original question, how can Afropunk mean everything and nothing? In essence, Afropunk is a celebration of the alternative arts scene that has blossomed from the underground culture of the African diaspora. The combination of art, music and fashion at Afropunk is rich in African culture yet simultaneously interwoven with the contemporary Afropean and Afro-American experience; this melting pot of influences resulted in a festival that celebrates undeniably stunning visuals and stylistically diverse musical content. Afropunk festival centres on the sensational music and striking aesthetics of black culture, yet at its core is an ethos of diversity and inclusivity. Dotted around Le Trianon were Afropunk branded banners that endorsed the Afropunk attitude 'No sexism, No Racism, No Ableism, No Ageism, No Homophobia, No Fatphobia, No Transphobia, No Hatefulness'. The hosts and performers vocalized messages of inclusivity and individual expression throughout the event. These words resonated across the dancefloor like wildfire and bonded the crowd to form a powerful sense of what it means to be a part of the Afropunk community. 
For me, Afropunk is an initiative that artistically promotes a progressive attitude towards creating positive change. It uses the arts to promote the deconstruction of oppressive ideologies that seek to categorise people and label them as 'other'. Afropunk smashes the binary, leaving in its wake everything and yet nothing.
Afropunk is an exciting, stylish, sexy and bold underground movement that is set to spread its graceful, black wings far and wide. Organisers of the festival have just announced that they have plans to bring the event to London. I hope my hometown can embrace the Afropunk movement- so that it may sail to our shores and cause a new wave in British music.
– Naomi Cara Nekesa