We brought 2017 to a close with a playlist of our favourite short songs. Now 2018 is stretching itself awake, there are two things we can be sure of: the days are getting longer and it's time for a brand new playlist to get us off to a flying start!
If songs are getting shorter, it's probably no surprise to hear that intros to songs are getting shorter too. All excess fat on the traditional pop song is being trimmed as lean and clean as their producers may dare. Research shows that the average intro has dropped from over 20 seconds to just five seconds since the mid-1980s. "If you're sitting on Spotify and get bored within 10 seconds, you just flick a button and you're on to the next thing. I think you have to grab peoples' attention much more quickly [these days]," says Mark Ralph, producer for Clean Bandit.
I do wonder what this will mean for the future of the UK's traditional pub quiz and, specifically, the fabled "guess the intro" round where competitors battle amongst each other to quickly identify a song from its opening bars. I myself have been known to sniff out George Michael's "Father Figure" from opening hi-hat alone! Perhaps by 2050, all music will just begin with the vocal, and the music intro as we know it will be but a distant memory, a quaint idea from the past like shell suits and Angel Delight. Or maybe, if the robots really are coming to take our jobs away, we'll have more time to luxuriate in a world where songs with ever increasing intros don't reveal themselves until they're jolly well good and ready.
While we're waiting for the future, here are a selection of songs with killer intros as suggested by colleagues working for the British Council in our offices around the world. Which of these start you up?
– Stephen Bloomfield
The Best Intros
It's a playlist that needs no further introduction, so here it is! Find out who chose what and why below.
I have been listening to this song since 1972 and it never ceases to get me up on my feet with my air guitar! A very, very memorable riff to start that builds up to a full throated heavy metal number. Superb!
– David Vere (People and Organisation Lead – London, UK)
I'm choosing Mahler's Ich bin der Welt Abhanden Gekommen – it's glorious and you get plenty of intro for your money with this one. It's also closely related to the Adagio from the 5th Symphony made famous by the film Death in Venice.
– Cathy Graham (Director, Music – London, UK)
It's a great intro because of the anticipation it brings of what is to come for the remainder of the number.
– James Martin (Country Director, Cyprus – Nicosia, Cyprus)
The heavy machine drum pattern and slowly rising bass line sets up New Order's most well-known track, providing the perfect introduction to that techno-meets-post-punk sound they created in the mid-80s.
– Christine Bardsley (Film Programme Manager – London, UK)
A punk classic with instantly recognisable intro, beautifully naïve and full of hope: "wanna hold her wanna hold her tight / Get teenage kicks right through the night."
– Jonathan Stewart (Deputy Director, Northern Ireland – Belfast, UK)
What an album opener (from Aynama-Rtama on Nawa Recordings) – demands your attention as soon as it begins. Tamer Abu Ghazaleh's voice is commanding, foreboding, ratcheting up a level of tension that holds the listener suspended for the entire track. "My stallions are lighter than the wind. The fire of their hooves singes the earth as we enter the cities" – lyrics from a poem by Sargon Boulus.
– Leah Zakss (Programme Manager, Music – London, UK)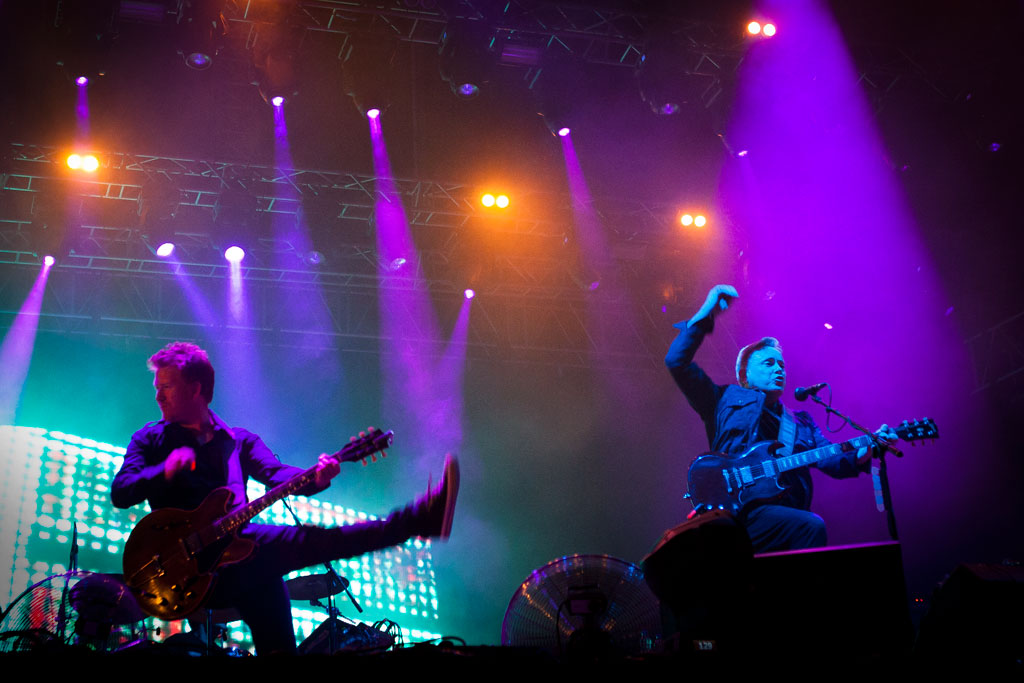 Above: Intro kings? New Order have two nominations for best intro on our playlist and there's another entry for Joy Division. Photo credit: Irma Puškarević (CC BY-SA 3.0) taken at EXIT festival in 2012.
Mumdance's sparse grime production and Novelist's machine gun MC flow come together on this UK underground release that's broody, minimal and wastes no time cutting to the chase. Novelist bursts onto the track with tenacious energy and run circles around the beat for three minutes straight – no easy feat for a song that's essentially just two bass sounds and no percussion.
– Jasper Wilkins (Digital Video Editor – Cardiff, UK)
Watch Mumdance feature on Cairo Calling – a film from Rinse FM, supported by the British Council – exploring the London and Cairo DIY music scenes
For me, this was the band's greatest lineup to date with Dave Grohl turning in a tour de force, John Bonham-inspired shift behind the drums. This isn't just a great intro; fast forward to the ending for, in my opinion, also the best outro in modern rock – never fails to deliver heart pumping energy!
– Stephen Bloomfield (Communications Manager, Music – London, UK)
This was New Order's first release after the death of Ian Curtis. Before the vocals kick in, there's this minute of introduction that I think just epitomizes the sadness and change the band are experiencing and it's always been one of my favourite tracks.
– Naomi Pieris (Music Programme Coordinator – London, UK)
Can't wait to find out what everyone else around the world has chosen! This is my pick: the intro makes everyone start singing and dancing from the very first seconds of the song.
– Juliana Guimarães (Technical Supervisor – Rio de Janeiro, Brazil)
Jean-Jacques Burnel, bass player for the Stranglers, has always been a bit of a hero and this super-fast shred down the bass instantly sets the scene for something special to follow – classic intro to a classic song.
– John McMurtrie (Schools Online Technical Consultant – Edinburgh, UK)
I'm going for Butthole Surfers' "Sweat Loaf". Not only does it lure you into a false sense of schmaltzy security before unleashing sonic chaos, it is a track that has an interesting lineage … "Sweat Loaf" samples Black Sabbath's "Sweet Leaf" and, in turn, Orbital take the Butthole Surfers' intro to make their classic dance track, "Satan".
– Joel Mills (Senior Programme Manager, Music – London, UK)
Whenever I hear the opening piano chords I think back to my childhood – it was the first song I was able to play on my guitar. It is an extremely simple melody and, at the same time, very intense and touching. In my opinion, it is a perfect paradox.
– Débora Lima (Society Intern – Rio de Janeiro, Brazil)
The no-nonsense, wonderfully simple two note bombastically throbbing bass intro simultaneously welcomes you in and sets you on edge. You know you are in for a ride! As the adrenalin rises, the simplicity bleeds into esoteric cool and by the time the drums kick in you are bopping your head along nicely! This proves there's a creative energy outside of London! "Dance dance dance to the radio."
– Chris Leighton (Project Co-Ordinator – Manchester, UK)
I'm not a huge fan of Status Quo but this track opened Live Aid on 13th July 1985 – certainly one of the most important musical events of all time. That iconic opening piano is quickly joined soon after with the rock guitar of the Quo and then the vocals. A great intro and the intro to an amazing day of music!
– Simon Ellis (Head of Crisis – London, UK)