The Alternative Royal Wedding Playlist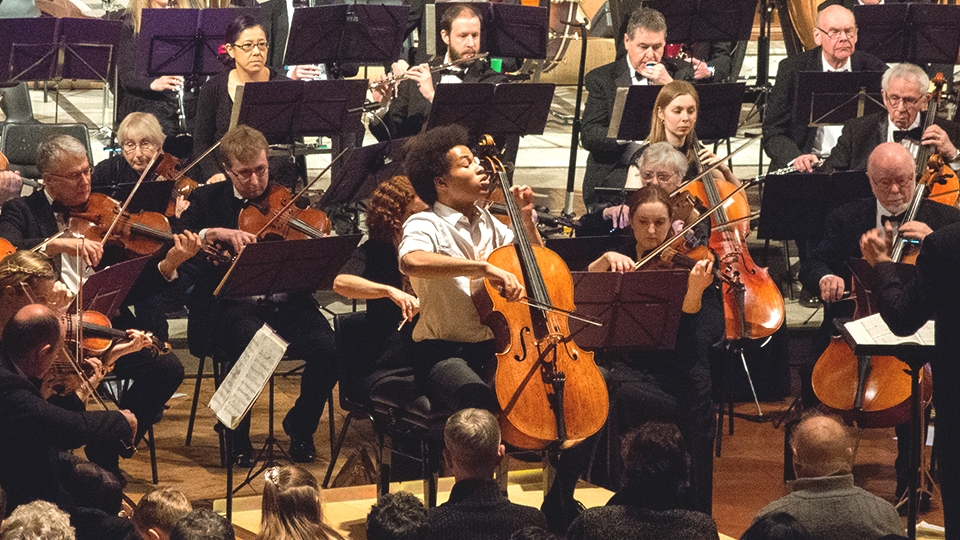 We don't know exactly what music Harry and Meghan have got lined up as they tie the knot on Saturday, however some musicians are definitely confirmed. We know for instance that young cellist and rising star Sheku Kanneh-Mason has been invited to perform during the ceremony following a personal call from Meghan Markle herself. Kanneh-Mason, the Nottingham-born former BBC Young Musician Award winner, will play alongside the Choir Of St George's Chapel as well as gospel conductor Karen Gibson and The Kingdom Choir. But who joins them to entertain the happy couple – and their esteemed guests – has been the matter of some conjecture. Rumours abound of British stars Elton John, Adele or Ed Sheeran making vocal appearances at some point during proceedings and there's probably more chance of hearing Ed Sheeran at the royal wedding rather than his own according to comments the singer made earlier this year.
Christopher Warren Green – who will conduct the orchestra at the royal wedding, made up of musicians from the BBC National Orchestra of Wales, the English Chamber Orchestra and the Philharmonia – says the music will have an "American slant". One prediction is for the appearance of Aaron Copland's Appalachian Spring, a piece written by the American composer in 1944 around the themes of courtship and marriage.
So we asked colleagues from both sides of the pond - with additional support from the Visit Britain team in the USA - to be virtual DJs for the day and put forward their suggestions for an alternative royal wedding playlist, featuring artists from the UK and US only, to take us through the day from the entrance of the bride to the final knockings on the dancefloor in the wee small hours. And here it is!
Our Alternative Royal Wedding Playlist
Entrance of the Bride
For a real alternative playlist, why not start things off with Maggie Rogers' "Dog Years"? We know Meghan is a fan as this featured on her own playlist featuring her favourite "pick me up" songs. For the happy couple: "I know things are changing …"
From Visit Britian team (USA)
Signing Of the Register
This is many people's favourite Beatles track although I'm going with the Brad Mehldau version. Mehldau has taken numerous songs from British artists and (in the parlance of our time) "made them his own" – see his take on Radiohead's "Paranoid Android" and Massive Attack's "Teardrop" – but I think his version of "Blackbird" is among the best and would be a great interlude while the happy couple sign the register.
From Stephen Bloomfield (Music Communications Manager, UK)
Ceremony Music
If he's going to be at the wedding, it would be great to hear Elton John get up and play this at any point during the day. There's an obvious link between Harry and Elton – the singer performed a version of "Candle in the Wind" at Princess Diana's funeral – and the lyrics to "Tiny Dancer" also mention an "LA lady", where Meghan comes from. For something a bit different, here's Florence and the Machine taking on the song.
From Visit Britian team (USA)
Post-Ceremony
My sister had this at her wedding – all the guests jingled along on tambourines (my Dad very much off beat). It was a very special moment!
From Naomi Pieris (Music Programme Co-ordinator, UK)
Wedding Breakfast
Coldplay headlined Sentebale at the request of Prince Harry so he must be a fan! Sentebale was a charity event organised to help raise funds and awareness of the challenges faced by young people affected by HIV/AIDS in sub-Saharan Africa.
From Visit Britian team (USA)
A playful wink to Harry's grandmother in the band name, a classic English band, a great song about the way your best friend and your partner makes you feel.
From Ava Baksh (Society Project Coordinator, USA)
A love song awash with harmony!  Also, the band is from Los Angeles – like Meghan – and it featured in that classic British rom-com "Love Actually".
From Visit Britian team (USA)
What can you say? US and UK duets are the best!
From Lusine Merdinyan (Senior Accountant, USA and Canada)
First Dance
Why "At Last"? Because of the lyrics, because it's the song that Michelle and Barack Obama danced to on his inauguration – and they seem to be good friends of HRH – and because it's such a rich, juicy, gorgeous song to smooch to!
From Kathy Culpin (Head of External Relations and Major Events, USA)
Wedding Reception and Party
If there is a more exciting "disco" track than this then I'd love to hear it. For me, this is Michael Jackson and producer Quincy Jones at the absolute peak of their powers. The horns are incredible, the groove sublime and there's a little slap bass to enjoy at a time before slap bass was naff.
From Stephen Bloomfield (Music Communications Manager, UK)
There's just something about this song that makes people want to dance and sing along! Considering that Harry and Meghan spent quite a bit of time in Africa and are reportedly spending their honeymoon in Namibia, this would be a perfect addition to their wedding playlist.
From Megan Oliver (Digital Communications Manager, USA)
This is my youth! I loved The Stranglers and bands like them, which brought a new kind of energy to British music at the time. This is one for towards the end of the night – a high-energy song and nod to Harry's time as a soldier.
From Alison Corbett (Head of Education Programmes, USA)
A classic song to drop in and keep all generations happy just as the party's starting to wind down … and Springsteen closed out the Invictus games, so dear to Prince Harry's heart.
From Visit Britiain team (USA)
End of the Night
Great song for the end of the night and Meghan likes Janelle Monae. Plus … the lyrics!
From Visit Britian team (USA)
Check out some of our other playlists: