Sheila Maurice-Grey and Banou Azania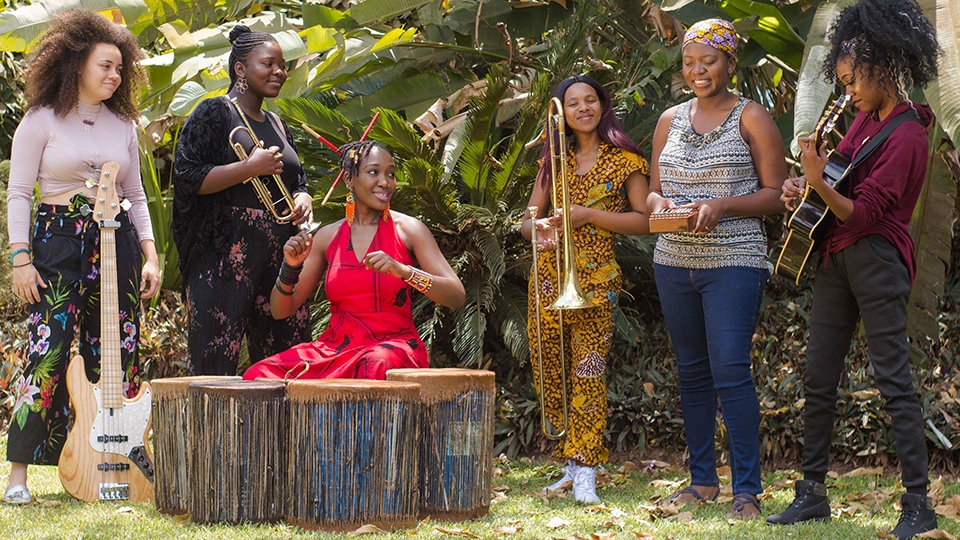 In 2018, London-based composer, trumpeter and visual artist Sheila Maurice-Grey was invited to join a new band taking shape in Malawi, with support from the British Council, as part of the inaugural xJazz Music Residency. Featuring Isobella Burnham (UK) on bass, Marlyn Chimombo (Malawi) on vocals, Siya Makuzeni (South Africa) on trombone, Micah Miyanda (Zambia) on guitar and Kasiva Mutua (Kenya) on drums, this was set to be an all-female lineup packed with some of the finest jazz talent two continents could offer.
But Grey was a little wary of joining an all-female lineup, conscious of the way they are sometimes perceived. "The thing is [an all-female line up] can end up being a thing about image rather than being about the music," she explains, but the lure of such talented musicians, regardless of gender, quickly blew any hesitation away. "When I saw the people I'd be playing with and did some research I thought 'oh, these are some really great musicians' [and] other than this, I couldn't really remember a project where I've collaborated with musicians outside the UK before."
Banou Azania was born – the band name means Royal Africa – and Grey met them for the first time in Malawi in September 2018. As the residency began, the musicians got to know each other in the first days by exchanging ideas and putting together a set for two shows at Lake of Stars, fusing African music with traditional jazz elements. Together, they ran a workshop for young women at the Music Cross Roads centre, followed by a Creative Hustles session at 1Five Entertainment where they discussed their thoughts about the modern-day music industry before leading a jam session at Area 10 Café.
The following month, Banou Azania moved on to Johannesburg for more shows and more workshops with young women across the local music scene.
Through the xJazz music residency the aim is to bring together young and phenomenal jazz musicians, who happen to be women, from five different countries, for them to experiment, create music together and build connections that will hopefully be beneficial to their careers going forward while inspiring other young women to pick up music instruments.


– Siya Makuzeni, vocalist and band-leader for Banou Azania
Sheila Maurice-Grey
For decades, jazz musicians have moved fluidly between ensembles, guesting on each other's shows and recordings in a way that is less commonplace in pop and rock. This era is no different with Grey leading her own band, KOKOROKO, but also popping up with NÉRIJA, Cassie Kinoshi's SEED ensemble, New Purple Celebration and collaborating with the likes of Blue Lab Beats. But maybe what is different for this generation is the breadth of the collaborations and a willingness on both sides for connections that cross the traditional genre boundaries. The maxim that there are only two types of music – good music and bad music – has clearly never been more true. In recent times, Grey has collaborated with KANO, Little Simz, Kwes and Loyle Carner.
I like to draw all those influences into a place where the musicians that I play with can interpret the music the way they feel is best
"Each week is so different but I try to balance my week in terms of making enough time to practice, to do admin and getting enough time to rest as well! That's important! But I really just move from project to project and structure my time around that."
Grey studied at Trinity Laban Conservatoire of Music and Dance in London, where so many talented UK jazz musicians have learnt their craft, but says her days before starting at Trinity, studying Fine Art "down the road" at Goldsmiths, were just as formative for her music career.
"I feel like that was a time when I learnt a lot just being by myself, learning music by myself but incorporating what I learnt in music into art as well. They're very different art forms but the rules of creativity are similar. Going into Trinity with that mindset was very interesting, playing and meeting so many different musicians and now a lot of those people are musicians that are part of [laughs] quote unquote 'the scene'."
As a trumpet player, it's perhaps no surprise to hear her mention the legendary Miles Davis among her biggest influences, citing Miles' 1970 Filmore East concerts – "just before the wah-wah period" – as a particular reference point for her own music. You can hear Miles' influence on KOKOROKO but Grey also blends in the rhythms and energy of West Africa to create something fresh and exciting that has chimed with the times and sounds of that London 'scene'.
"But I listen to a lot of music," she says. "We play a version of a song made famous by Artful Dodger and Craig David. I like to draw all those influences into a place where the musicians that I play with can interpret the music the way they feel is best."
And what's the next collaboration on the horizon?
"From the Africa shows we're now doing more shows as Banou Azania," explains Grey. The first are in Switzerland – "I've travelled through but never been! Now I'm going to be there for a whole week … really looking forward to spending time with the ladies and then performing some shows with my own band too."
The xJazz Music Residency is a project by the British Council in partnership with Lake of Stars Malawi Arts Festival, Umodzi Park, Music Cross Roads, The Presidents Hotel, 1Five Entertainment and Airtel Malawi.