Kallida and Nyege Nyege: Material Differences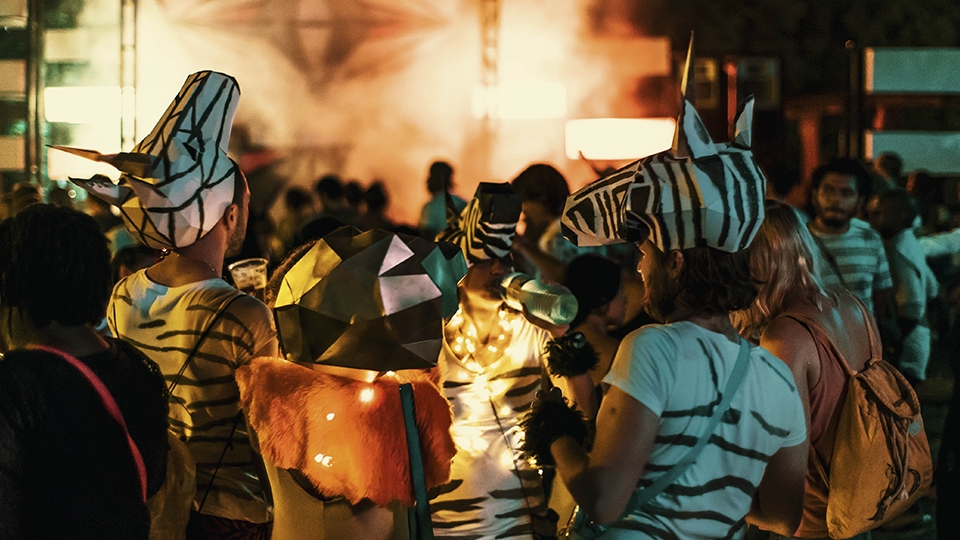 "Our team are seasoned festival-goers around the world but we all recognised this was something very different, very special," says Reuben Griffiths, reflecting on his time working at Nyege Nyege music festival in Uganda.
Last year, the British Council supported Nyege Nyege to bring Reuben, and his team from the UK music festival 'Kallida' (pronounced 'collider') to Uganda to collaborate on the artistic direction of the festival site with the local crew. The result was the Dark Star stage – home to "a world-class lineup of electronic music DJs" through the festival. We went behind the scenes to find out more about this international collaboration where teams learnt a huge amount from each other about different approaches with lighting, stage design and even the building materials themselves.
Above: Nyege Nyege's Dark Star stage in the daytime before the crowds appear. Photo credit: Reuben Griffiths
Nyege Nyege is based in Jinja, a small village "in a breath-taking forest on the shores of the Nile River" – a four-hour drive away from the airport at Entebbe. The festival itself, heading into its fifth year, celebrates electronic music from a diverse range of African artists, supplemented with European artists and experimentalists. In 2016, the Nyege Nyege Tapes record label was formed, which "in a few short years has become a hub for head-spinning electronic sounds from across East Africa and beyond" (Pitchfork) and, in 2017, the festival was voted Uganda's event of the year. Its credentials as a launchpad for African artists is now established – a roster of artists just completed their second European tour and Kampire, a core member of the Nyege Nyege collective, is now a Rinse FM resident DJ.
Nyege Nyege's festival audience of 9,000 may be far greater than Kallida's more modest 500, but what struck Nyege Nyege founders Arlen Dilsizian and Derek Debru about Kallida was its strength in visual arts, a side of their festival that they wished to develop further.
"Everything is very visual these days but sometimes the people that create those visuals get forgotten," explains Reuben, who is keen to provide a platform for visual artists that's on a par with the musicians. Kallida offers an array of stages and areas to cater for different tastes in music but also different moods by using various materials to set the scene. There is no 'main stage' and as a result, the festival encourages the audience to explore and navigate their own path through the site and discover new spaces that open up as the day unfolds. "There's a real contrast between day and night in terms of the materials – during the morning and the day it's tungsten lights, wood and fabrics then at night it's more digital and cold materials. When you don't have 20 stages you have to make the very most of the spaces you do have and that intimacy means it's a friendly festival – people make great friends there."
Above: Nyege Nyege is underway! Photo credit: Papa Shabani
Reuben is also committed to the idea that a festival should involve the local community, uneasy about the idea of a music festival pitching up in a rural location then, like a travelling circus, trundling off once the party is over. "I was told this is exactly what the festival organisers Arlen and Derek wanted to do with Nyege Nyege" says Reuben "– they wanted it to be something that worked for Ugandans. There are festivals in Africa which are really just geared for tourists … 'we've found a great site, let's just invite our mates' sort of thing [but] we never wanted to feel like the festival was just dropped in the middle of nowhere."
Robinah Nansubuga, Artistic Director for Nyege Nyege who joined just four weeks before the 2018 festival started, picks up the story: "There were a lot of things we wanted to achieve differently … my intention was to work in conjunction with locals, artists, community groups and we focused on developing relationships through interactive discussions, collaborating on all sorts of levels with installation artists, stage designers. The call that was put out through the British Council for visual artists added real value. We loved these collaborations – they created a new experience for our guests through the different music stages we designed. This was a 'silent way' of communicating and providing our audience with variety, providing spaces to accommodate every guest."
There were many conversations between Nyege Nyege and the Kallida team before the festival got underway but it was only once Reuben and the Kallida team arrived on site in Uganda that they fully made sense of what was required and what was possible.
"When we do stuff in the UK we have quite short build-times; we do a lot of pre-production [planning] so when we arrive it's like 'action stations' and everything is ready to go," explains Reuben. "In Uganda everything was very flowing and changing. It could be something simple like the wood we wanted wasn't straight and we'd designed things to have quite straight lines so then you're working round that."
Did this prove stressful as the opening day of the festival drew closer? "I don't do stress!" shrugs Reuben. "I found it quite fun. You're thinking on your feet, problem solving. We'd actually love to be more like that in the UK sometimes but we can't because of the way venues work – you have to pay so much for that time so everything has to be so tightly project-managed."
Above: the Dark Star stage under construction. Photo credit: Reuben Griffiths
Materials, such as metal, that would be expensive in the UK, were surprisingly inexpensive in Uganda and the Kallida team had access to some skilled local welders. "Metal was more or less the same price as wood – we learnt a lot about seeing how different people view different materials." Energised by the need to be flexible and adapt to the skills and materials at hand, the UK team embraced the idea that necessity is the mother of invention.
The Ugandan crew worked hard to get the stage set up and work to resolve any problems along the way. "We worked with a local crew of about eight, all aged between about 16 and 23 and they were all grafters – so hard working and we couldn't have done it without them. If something wasn't available, they would find it and it would get sorted out. And you see what they manage to achieve in that environment is testament to their hard work."
Sometimes the Kallida team would advise the crew on how to use familiar materials in different ways: "we weren't so much teaching [the crew] but asking them to set up differently and work differently." One example was how to set up the lights: "A light has an in and an out [socket] but they didn't have any out cables because they never set them up like that. So we had to butcher cables to get what we needed. But they grafted and seeing the satisfaction on their faces when we'd finished and the dancefloor was full of people enjoying the space they'd created – that was very rewarding for everyone."
Artistic Director, Robinah, played a crucial role in tying together the work of the various teams. She even organised for Ugandan art students to feed in ideas. Kallida also worked with a Belgian team on signage, to help audiences navigate their way around the festival. "We talked about the flow of people a lot," says Reuben "and we were all bouncing ideas off each other with the crew." Robinah's management initiatives brought a new approach to the festival, one that made sure the site felt coherent while simultaneously allowing enough creative freedom for the individual stages to feel fresh and diverse.
"There was something really infectious about the vibe," says Reuben. "Amazing crowds , amazing site – what a place for a festival! There's something different about what they're doing that's probably unique across Africa."
"I was also amazed at how good the dancing was and how late everyone managed to stay up compared to the UK," says Reuben. But some things are reassuringly familiar: "yeah, portaloos are the same the world over."
He was also struck by the natural warmth and friendship of the Ugandans, from the crew to the security staff. "They want to look after you, want you to have a good time and be safe, but they don't hold your hand so their hospitality is more subtle … and we were as excited as they were to learn about each other."
Despite the two being thousands of miles apart, it seems the teams at Nyege Nyege and Kallida truly found a common bond on site in Uganda. "[Kallida] were special, super cool and fun creative individuals each in their own special way," says Robinah. "They spent a great deal of time understanding and exploring the purpose of the festival … They provided meaningful opportunities and assistance for and from locals and artists … their stage ended up being one of the coolest unusual spaces in the festival so I am super happy that I got the chance to work with them."
Nyege Nyege is back this year from 5 - 8 September 2019. Tickets on sale now.