Introducing the UK-Russia Year of Music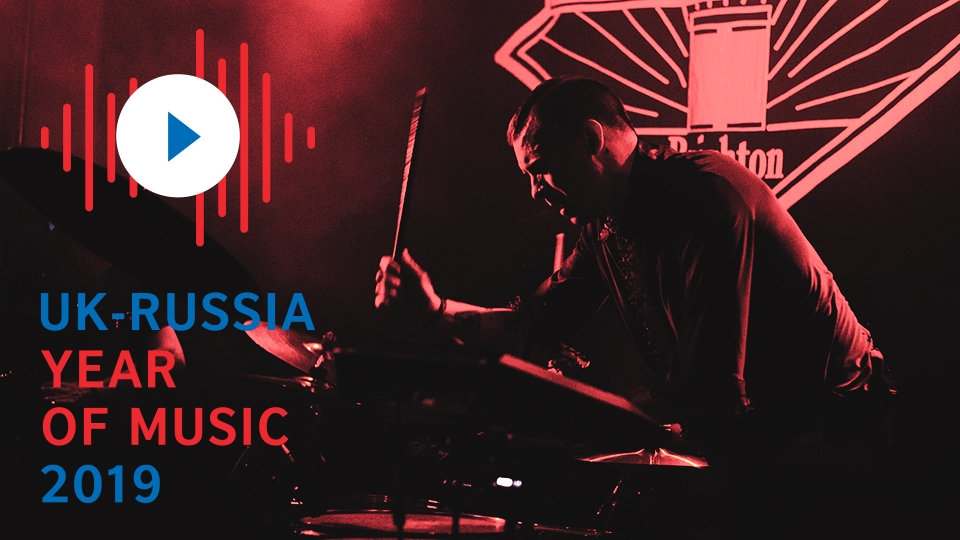 We're delighted to share details of an incredible programme celebrating the UK and Russia's rich musical cultures.
Scores of events are scheduled over the course of the UK-Russia Year of Music, from early 2019 into Spring 2020, featuring an enviable lineup of talent from an array of genres, from Gilles Peterson in Moscow to George Benjamin's Lessons in Love and Violence in St Petersburg, from public talks to composers' workshops to performances from emerging artists through Selector Live.
The aims of the UK-Russia Year of Music are to:
share, celebrate and broaden appreciation of contemporary and classical music from the UK and Russia through diverse, inclusive and innovative programming
create and share opportunities for professional collaboration between individuals and institutions, including agencies and promoters, conservatoires and music schools and the creative industries in the UK and Russia
inspire audiences across the whole of the UK and the whole of Russia to build positive relations with one another through cultural exchange
support as many young people as possible to participate in cultural and educational activities.
The UK-Russia Year of Music builds on the successes of the UK-Russia Year of Culture in 2014, the UK-Russia Year of Language and Literature in 2016 and the UK-Russia Year of Science and Education in 2017.
UK-Russia Year of Music – Selected Highlights
With such a huge programme in store, we've picked out just some of the highlights. For a full listing of what's on, and what you've missed but may be able to watch online, head to the UK-Russia Year of Music website.
Online
Arzamas – the Russian online cultural platform for lectures, podcasts, articles and videos – is host through the year to essays and podcasts looking at the history of British music from the Elizabethan era to acid house, Purcell to Britten, folk music to the avant-garde. These pieces give a perspective on the full range and diversity of British music, what makes it unique and what it has contributed to the rest of the world.
24 – 26 April, Moscow
Envision Sound brought UK composer, Michael Price – known for his work on Sherlock and Dracula – to the Moscow Film School to work with emerging composers and share his wisdom. They worked through prepared scores and cues for film segments with a live orchestra in the room.
14 – 15 June, Moscow
Selector Live presents Worldwide FM showcase at Powerhouse by day and Pluton by night, with live performances by UK bands and DJs including Skinny Pelembe, Emma-Jean Thackray, Elsa Hewitt and Tash LC, with Gilles Peterson rounding off the night with a vinyl set.
16 June, Moscow
Public talk at Sila Vinyla by Gilles Peterson, Worldwide FM One of ten talks by key UK music leaders as part of the Future Culture programme.
22 – 24 June, Moscow
Songwriting workshop delivered by Liverpool Institute of Performing Arts - the second of four Selector PRO workshops run in partnership with Moscow Music School.
28 June, Ekaterinburg
Ural Music Night featured three Birmingham bands – Riscas, The Assist and The Twang – and a Ninja Tune Showcase at Dom Pechati featured Ninja Tune artists Iglooghost, Nabihah Iqbal and Actress.
5 – 7 July, Moscow
The Bol Festival at Zil Culture Centre, which attracts the brightest Russian and international underground musicians, featured three UK acts as part of the UK-Russia Year of Music: Warmduscher, Black Midi and Sophie.
9 July, St Petersburg
George Benjamin's Lessons in Love and Violence received its Russian premiere at Mariinsky Concert Hall. Benjamin's third opera, with a libretto by Martin Crimp, is based on the story of King Edward II and Piers Gaveston, and premiered at the Royal Opera House in 2018. The composer himself was in the audience – a concert performance by the London Chamber Orchestra conducted by Oliver Zeffman who conducted Benjamin's second opera, Written on Skin, at the same venue in 2017.
13 July, Moscow
Selector Live presents NTS Radio Showcase so for a whole day and night NTS Radio takes over the Strelka courtyard to present the best of emerging artists rotated at this well-known UK underground music radio station.
13 July, St Petersburg
Usadba Jazz festival Bahraini-British performer Yazz Ahmed, a trumpet and flugelhorn player who has worked with Radiohead and These New Puritans, performed at the annual Usadba Jazz festival on Yelagin island.
18 – 21 July, Tula
Fourth British Literature Today seminar at Tolstoy's estate at Yasnaya Polyana explores connections between literature and music as two art forms that inspire, influence and nourish each other. Appearing from the UK were: acclaimed poet and sound artist, Lavinia Greenlaw,; interdisciplinary artist and writer, Jay Bernard; novelist and journalist, Diana Evans; writer, rock critic and musician, David Keenan; author and Observer classical music critic, Fiona Maddocks and poet, playwright, novelist, librettist and critic, Glyn Maxwell.
26 – 27 July, Moscow GoGo Penguin at Chess & Jazz Festival
Manchester-based piano trio GoGo Penguin performed at the new Chess & Jazz Festival at Hermitage Garden featuring chess tournaments, lectures, a headline appearance from Gregory Porter and the best food Moscow has to offer.
27 July, St Petersburg
Rinse FM stage at Present Perfect festival – in partnership with the UK radio's Rinse FM, this stage presents emerging and established UK artists at the biggest electronic festival in St Petersburg.
3 August, Moscow
Picnic Afisha festival launched a UK stage presenting some of the finest jazz, world and experimental electronic UK artists around including a special UK-Russia collaboration between musicians specially for the night.
30 August – 13 September 2019, Tchaikovsky-city
Ninth International Young Composers Academy will invite 22 young composers (10 students, 5 trainees and 7 observers) from all over the world to work with a host of international composing greats – among them Bryn Harrison (UK), Dmitri Kourliandski (Russia), Yan Maresz (France) and Martin Schuetler (Germany).
September to March, numerous locations around the UK and Russia
Our special residency programme for the UK-Russia Year of Music, in partnership with Russia's RUSH initiative and PRS Foundation in the UK, has enabled six musicians - three from the UK and three from Russia - to switch countries and spend time getting to know a different culture.
8 February, Moscow
The UK's Paraochestra - a groundbreaking ensemble solely made up of players with disabilities - headed to Moscow for performance and public discussion of their work led by clarinettist and broadcaster Lloyd Coleman and conductor Charles Hazlewood.