Blog: Glastonbury Behind The Headliners
Festivals are at the heart of British summertime for artists, audiences and festival organisers alike. They attract an influx of music tourism and account for a major part of the revenue generated by the UK's live music sector. These temporary event structures, which are usually built on green-field sites, form an essential part of musicians' touring diaries, sustain the livelihood of thousands of festival staff and create a staple in the British cultural calendar.
Glastonbury Festival is arguably the world's most iconic music event. As someone who has been going to festivals since I was a kid, Glastonbury is one event that stands apart from the rest and holds a special place in my heart. The festival is unique in its ability to cater to any demographic with any given taste, offering a diverse plethora of festival experiences. Whether you want to roam around the Healing Fields weaving baskets and practising yoga, lose your mind to some trance music in Shangri-La or go and watch the world's biggest rock star play the gig of their career on the Pyramid stage, Glastonbury has something to offer everyone. It is a magical place, an ephemeral party town that exists outside the realms of everyday convention. Only two laws rule its inhabitants: you must partake in the festival spirit and you must bring your wellies!
To produce and manage a festival of this scale, on a green-field temporary event site, requires thousands of personnel working alongside one another including operation managers, site crew, programmers, entertainers, staging technicians, press and media, security, medical teams, market stall holders and hundreds of volunteers. All these individuals are tasked with delivering a fragment of the enormous operation that functions behind the scenes of Glastonbury Festival.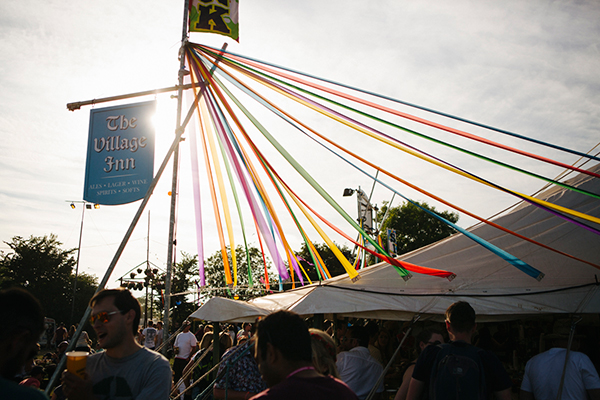 Above: One of Glastonbury's hidden gem venues, The Village Inn. Photo credit: Dan Medhurst
For the past four years, co-producer Olivia Pryle and I have been sub-contracted to programme the entertainment on three of Glastonbury's stages, which feature in high volume bars operated by the Workers Beer Company. Our pre-show planning commences at the beginning of the year in January, when we get out to as many gigs as we can in order to scout potential acts to play the Workers Beer Company stages. I personally find this one of the most enjoyable aspects of the job, as I am exposed to an ever-expanding roster of performers gigging on the UK's thriving underground arts scene. When making programming decisions it is important to think about the demographic and taste of your audience, however programming within the framework of an enormously diverse festival, we have no way of knowing exactly who our audience will be. Diversity within the arts is something Olivia and I both care about and strive for as two young, multi-racial, female festival programmers. So each year we aim for an eclectic line-up that is relatively gender balanced and represents a variety of acts from comedy, theatre and cabaret as well as covering a range of musical styles such as blues, folk, rock, reggae, ska, northern soul and disco. The intention behind our programming is to expose festival audiences to an array of talent spanning across genres and geographical locations within the UK. Admittedly, due to lack of travel budget, our scouting is predominantly based in our hometown, London, but to avoid producing a London-centric programme, over the years we have made a conscious effort to scout at events that represent emerging talent from different backgrounds. Our previous festival bookings have included acts from Bristol, Liverpool, Brighton, London, Essex, Scotland and Ireland.
Once we are satisfied with the regional and stylistic diversity of our line-up we begin scheduling our stage times. Our scheduling is based on an analysis of the specific location of each of our venues in proximity to the nearest mainstage. We capitalise on the footfall of festival punters passing by our venues during peak times (i.e. when a mainstage act finishes) and intentionally programme our highlight acts in these slots in order to draw in the crowds.
With our line-up secured and the scheduling and show advancing complete, we head on-site with our small project team: two sound engineers, a stage manager and an artist liaison. Production crews are often on-site weeks in advance of the festival working on the site build and by the time we arrive, four days before the live-show, the majority of the event infrastructure is in place. This year there was particularly bad weather in the lead up to the festival and it was evident walking around the site that things were running behind schedule. However, it always amazes me how the site crew and production managers team together, come rain or shine and work around the clock in order to ensure the site is ready in time for the arrival of festival punters. It is a wonderful thing to witness the final touches being added to a festival site as the production and décor teams work their magic in the last few days; the calm before a beautiful musical storm.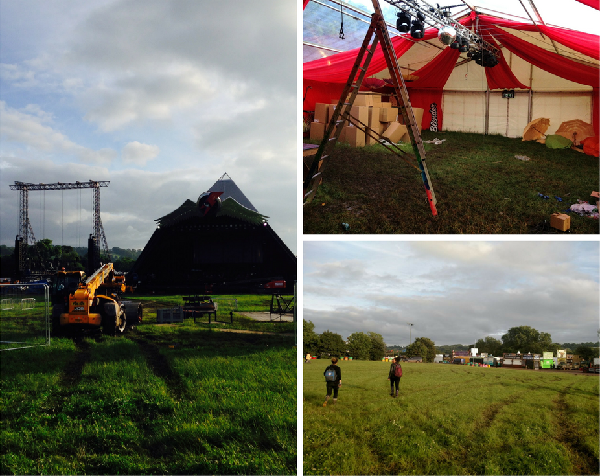 Above: Glastonbury in progress; the calm before the storm. Photo credit: Naomi Cara Nekesa
The live show days of a festival always race past in a flurry of operations management and on the spot problem solving. It's vital we ensure that lines of communication remain intact between us, the bar production team, our stage crew and the artists. Once the artists are onstage the responsibility shifts to them to create a buzz and feed off the energy given to them by the crowd, in order to deliver the performance of a lifetime. Whether an artist is playing the mainstage or a 350 capacity venue, a performance at Glastonbury Festival can be a career defining moment. The acts we book always cherish the opportunity to appear as part of the official Glastonbury Festival line-up, not only because of the notoriety of playing an iconic music festival but because they benefit from the high volume of music industry professionals who attend the event scouting for emerging talent. A great example of this occurred when one of the acts we booked this year, singer-songwriter Áine Cahill, was spotted playing on our stage by someone from the BBC who then invited the singer to perform one of the BBC's Glastonbury acoustic sessions, which was broadcast to millions of television viewers. Often bands will do a mini-tour of Glastonbury's smaller stages and play six or seven gigs over the festival weekend, not only hoping to widen their fan-base and get scouted by industry professionals, but also for the sheer buzz they get from performing at Glastonbury's more intimate venues.
Over the years I have learnt that the key factors to festival work are preparation, delegation and, most importantly, communication. This type of festival work requires long hours and an active and engaged mind which, after seven days on-site, can often be exhausting. However, there is no greater reward than witnessing festival audiences shaking off their real world responsibilities on the dancefloor in an environment that you have played a part in creating. Yes, Glastonbury Festival is a wonderful place to go and watch an act like Adele or Coldplay perform in front of a crowd of hundreds of thousands of people but my advice to anyone visiting the festival next year would be to delve beneath what is broadcast on the BBC and explore Glastonbury's smaller stages, the hidden gems where the real festival magic takes place!
– Naomi Cara Nekesa