Spaces-in-between with Video Jam in Manchester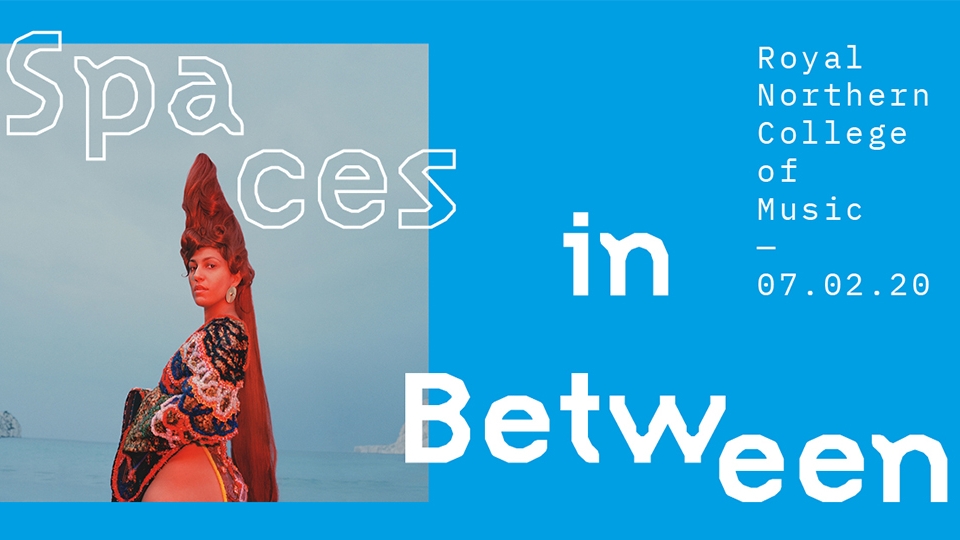 What does it feel to be home? We've teamed up with Video Jam in Manchester to commission five brand new audio-visual works which will be the result of five UK musicians each working with five filmmakers from around the world – Uzbekistan, Ukraine, Palestine, Beirut and the US. Our UK musicians are Nabihah Iqbal, Seaming To, Chaines, Kelly Jayne Jones and Lafawndah who is also working with vocalist Alya Al-Sultani on her score. In an age of mass displacement, each new work looks to respond to themes of home and history, desire and estrangement, nationhood and mythology, extinction and exile.
On 7 February, each piece will be screened for the first time, accompanied by the UK composers' scores performed live, at the Royal Northern College of Music in Manchester, including performance students from the RNCM itself.
Book your ticket now for Spaces-in-between at the Royal Northern College of Music on 7 February, 19:30.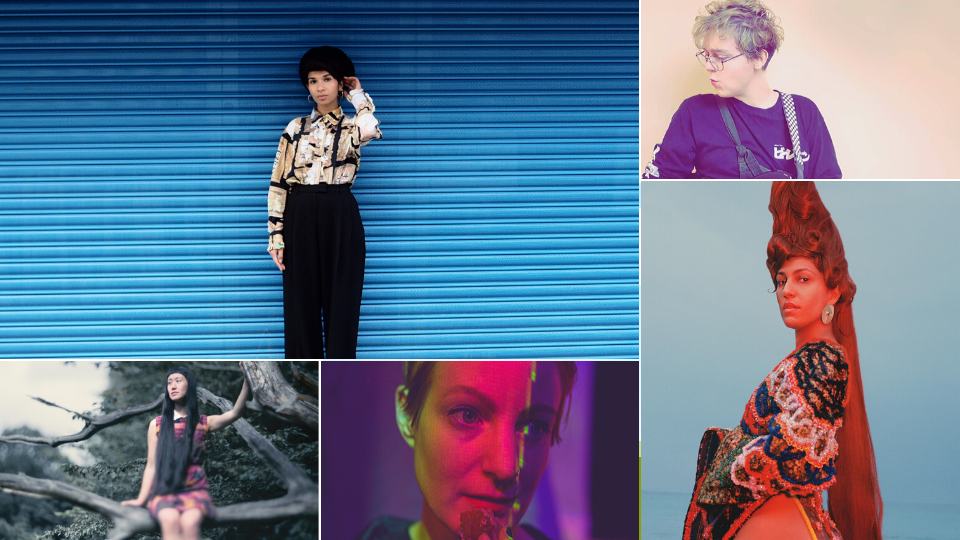 The UK musicians. Clockwise from top left: Nabihah Iqbal, Chaines, Lafawndah, Kelly Jayne Jones, Seaming To
Meet the UK musicians
Nabihah Iqbal
A rising star of alternative pop, Nabihah's music is a mixture of tender dream-pop, moody and propulsive percussion, grungy guitar and shimmering synth soundscapes. Formerly known as Throwing Shade, Nabihah's debut album for Ninja Tune, Weighing of the Heart, is one of the most talked about albums of the past few years. The title alludes to ancient Egyptian beliefs about the judgement of someone who has passed away: upon death, one's heart would be weighed against a feather to determine whether it was in balance with the universe, and only then could a person proceed into the afterlife. Nabihah holds a degree from Cambridge in African History and has experience working in human rights law in South Africa. She hosts a bi-weekly show on NTS where she explores global sounds, which has been influenced by her degree from SOAS in Ethnomusicology. She's collaborated with Chinese artist Zhang Ding, received a commission from Tate to compose music for the Turner Prize, and collaborated with Wolfgang Tilmmans as part of his Tate Modern exhibition. 
For Spaces-in-between, Nabihah has been working with filmmaker Razan AlSalah (Palestine/Canada) on the film Imwas.
Seaming To
Described as "the voice of a 21st Century" (Radio 1), RNCM alumni Seaming To is a truly avant-garde artist: a composer, vocalist and multi-instrumentalist with an extraordinary voice and a bewitching stage presence. She has worked with music luminaries such as Herbaliser and the Cinematic Orchestra and performance related collaborations including an animation for surrealist theatre company Forkbeard Fantasy, plus soundtracks with the filmmaker Michael England. Hailing from a family of concert pianists, following her studies she began performing and releasing albums in Manchester with supergroups Homelife (Ninja Tune) and Graham Massey's Toolshed. We are delighted to welcome Seaming back to Video Jam, following her live score for Victoria Keddie's Test Patterns at 'Video Jam x Basquiat' at the Barbican Concert Hall in January 2018.
For Spaces-in-between, Seaming To has been working with Saodat Ismailova (Uzbekistan) on the film Her Right.
Kelly Jayne Jones
Video Jam first worked with Kelly in 2017, when she scored a short film by Sri Lankan filmmaker Vimukthi Jayasundara at Manchester Museum. Combining performance, installation and sound, Kelly's work over the years has expanded to include dance, gesture, sonic drawings and stone sculpture. She is interested in creating multi-sensory experiences that foster possible conditions for fruitful communication and exchange, bordering multiple contemporary areas of practice including science and quantum fictions. She recently developed a collaborative work with Haris Epaminoda entitled Chimera, shown at the Venice Biennale 2019. 
For Spaces-in-between, Kelly has been working with Oleksiy Radynski (Ukraine) on the film Circulation.
Lafawndah and Alya Al-Sultani
Lafawndah, now based in London, grew up in Paris and has spent time in past years between Mexico and the US, Egypt and Iran. Her majestic musical style roller-coasters from thundering percussion to hypnotic bass production, as pop music infused with salsa, flamenco and rhythms drawn from influence all over the world. Her current incarnation as a devotional pop polymath is as unpredictable as her compositional style. Throughout Lafawndah's music, one can trace the influence of musical antecedents AR Rahmann, Missy Elliott, or Geinoh Yamashirogumi, all the while feeling and sounding only like herself.
Alya Al-Sultani is a vocalist and composer based in London, UK. Her first musical experiences were Iraqi folk songs sung by her great grandmother and radio broadcasts of Um Kolthum, Abdel-Halim and Fairouz. After leaving Iraq during the Iran-Iraq war, her family settled in Tottenham, North London where she began to discover the incredible new sounds of the 80s and music from the Caribbean. Her musical education was entirely classically focused, on piano and voice. She learned the importance of technique, tradition, theory, respecting fellow musicians and respecting the music — but she did not learn freedom and it is this she has sought for the last decade. The pursuit of freedom in music is driven by her aesthetic, her immigrant experience and her Eastern feminism.
For Spaces-in-between, Lafawndah and Alya A-Sultani have been working with Joe Namy (Lebanon) on the film Libretto-o-o.
Chaines
Chaines is an RNCM alumni who writes surreal and fantastical electronic and electro-acoustic music. They were commissioned twice by Video Jam in 2014 to work with filmmaker Mary Stark, resulting in new work premiered at Manchester Art Gallery and showcased on a UK tour with Slip imprint. Their recent album 'The King' was ranked in FACT magazine's top 25 albums of 2018's first quarter and was made Boomkat's album of the week. As well as their solo electronic work, Chaines has also worked extensively with the London Contemporary Orchestra. Commissions for the LCO have always been electro-acoustic in nature, using both small and orchestral scale ensembles with electronics, premiering works at venues such as The Royal Albert Hall, Tate Modern and the Roundhouse (Ron Arad's Curtain Call 2016). They have been in residence with SAY award winner Anna Meredith and Grammy Award winner Imogen Heap, improvising, performing and producing audio and video. 
For Spaces-in-between, Chaines has been working with Christin Turner (US/Germany) on the film Dreaming in Red.
Film and Music
Spaces-in-between opens the latest chapter in our ongoing Film and Music programme which aims to support new work created by musicians moving into the creative spaces where music and film and other visual media meet. This exciting international film and music collaboration seems the percet way to kick off a new decade. Spaces-in-between brings together individuals from a variety of cultural and artistic backgrounds, who have never previously met, to produce new work together. It enables artists to benefit from exposure to different ways of working outside their accustomed methodology and to push their practice in new directions to establish fruitful, long-term collaborations. We're excited to be working with Video Jam with their track record of establishing unusual, bold and risk-taking collaborations and challenging the conventional approaches to film scores. Watch this space!
Spaces-in-between is supported by public funding from Arts Council England.